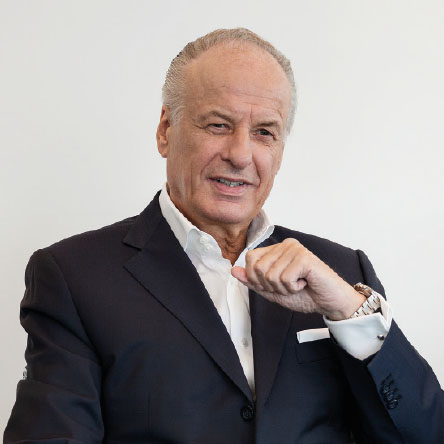 Dieter Becken established his company after completing a bricklaying apprenticeship and a degree in architecture and engineering in Hamburg and Hanover. He was quick to focus the business on investing in, developing, building and managing commercial and residential property in Hamburg. In 2006, he sold his real estate portfolio to an American financial investor and set up the current holding structure.
WHEREVER WE LOOK,

THE CHANGE IS ALREADY TAKING PLACE.

An interview
with
Dieter Becken,
Managing
Partner,
and
Prof. Dr Michael Becken,
Managing Director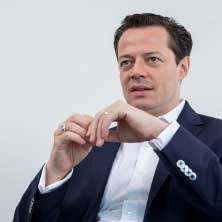 Prof. Dr. Michael Becken combines with his academic education the fields of law and economics relevant for the real estate sector.
In 2008, he joined the Becken group of companies as an in-house lawyer and moved to the management of the group in 2015.
Since the beginning of 2018, Prof. Dr. Michael Becken has been primarily responsible for setting up the new Investment and Fund Management division.
"Under the umbrella of the
holding company
know-how and the strategies and visions for
and visions for
for the future are developed.
Mr. Becken, Prof. Dr. Michael Becken, before we talk about the future, let's take a look at Becken's history, which reaches far into the present.
DB | That is absolutely right. Because last but not least, the past
is also the foundation for the present and the prerequisite for the
future. More than 43 years of real estate history have shaped me as an
entrepreneur and also my company. The values of our company have been consolidated and developed over the decades and are today obligation enough for us to think of the next generations. With the Board of Directors, I have set another fundamental milestone in the history of my company. So you are absolutely right when you say that the past reaches into the present and into the future.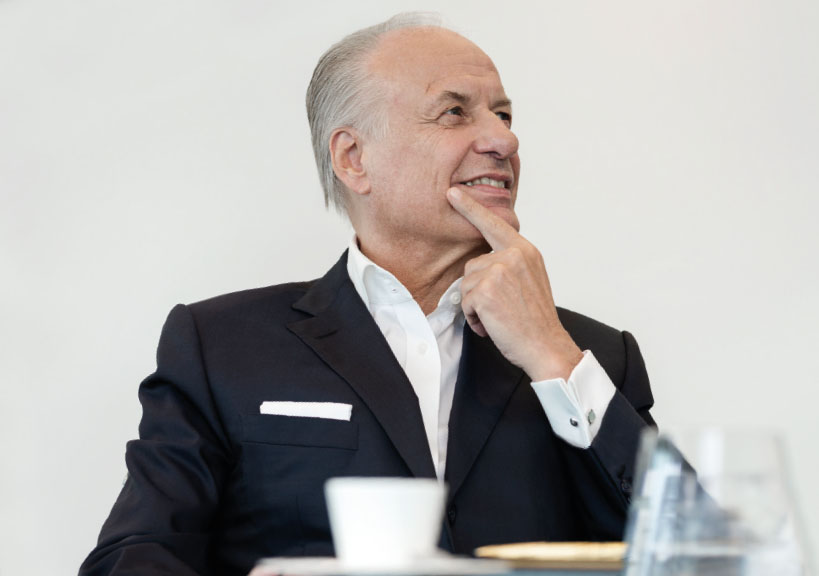 MB | Before we talk about the Board of Directors, which will ensure the continued existence of the
Becken company far beyond Dieter Becken's tenure
, we may well take a brief look at the
present and recent past of our company. In
recent years we have experienced considerable growth.
In addition to Berlin, we have opened branches in Frankfurt am Main and Munich. The number of our employees has doubled in the meantime and our project pipeline for the future three to five years has been expanded to a good 1.9 billion euros. Among other things, we realise office and residential real estate projects in the cities of Berlin, Düsseldorf, Frankfurt, Hamburg, Munich and Stuttgart as well as in their surrounding growth regions.
That sounds like considerable growth. How are you meeting this challenge structurally?
DB | By establishing the holding structure in 2006, we created the necessary framework to accommodate any kind of growth. Beneath the strong housetop provided by the holding company, the various business divisions function largely as expert teams that are independent yet networked with each other.
MB | With this holding company, we work like a group and yet are and remain a powerful family business with all its responsibilities. An important structural realignment in 2019 was the aforementioned Board of Directors, which is attached to the holding company. A supervisory and control body of selected family members and external experts in the field of real estate and financing.
So, would it be correct to say that the holding company develops the corporate strategy and vision?
DB | The entire know-how is formed under the umbrella of the holding company. This is where the strategies and visions for the future are actually developed
MB | We are prepared to tackle challenging goals even under our leadership, the leadership of the next generation. For us, it is not just about building more, but about building more intelligently, more sustainably, more resource-efficiently. Teamwork plays an important role in this. No one builds a house alone. In every real estate development, it is important to us that everyone involved in the project identifies with their task and the company, and thus grows together into one big team.
DB | The pressing concerns of our time are housing in urban centres and climate protection. We can only tackle them by working hand in hand. That way we can create spaces to live, work and breathe in – buildings that nurture people.
What would you describe as your core competency?
DB | Evaluate analyses, make decisions, create sustainable real estate values: Real estate expertise is in our DNA.
Is that your corporate philosophy?
DB | At Becken, we believe in the world of tomorrow! To help shape tomorrow, we always look beyond our own horizons. We take inspiration and new perspectives as our drive and are always aware of our responsibility.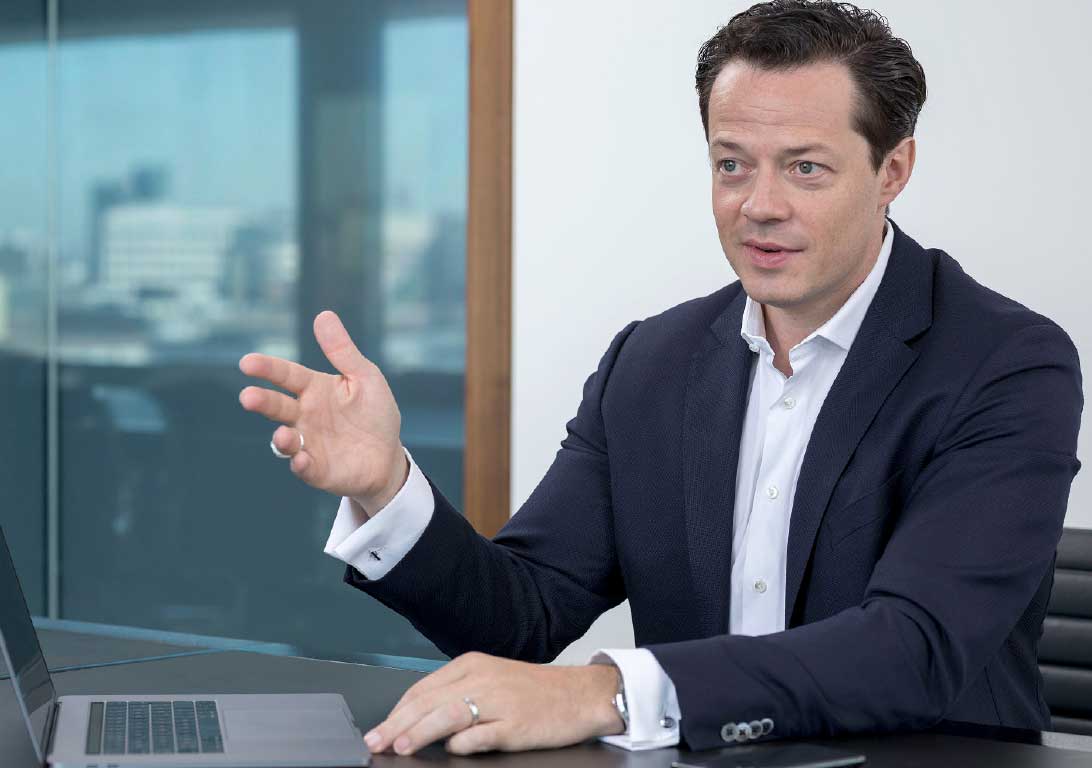 "We need to find an answer to the ever-increasing demand for sustainable living and working spaces."
You talk about climate protection and responsibility.
What exactly do you mean by that?
MB | By 2050, 70% of the world's population will live in cities. This poses great challenges for us at Becken and for the entire construction industry. We are convinced that nature, progress and technology do not have to be mutually exclusive, but can be mutually reinforcing.
DB | But technology alone will not change the future. Making our cities smarter doesn't mean losing focus on humanity.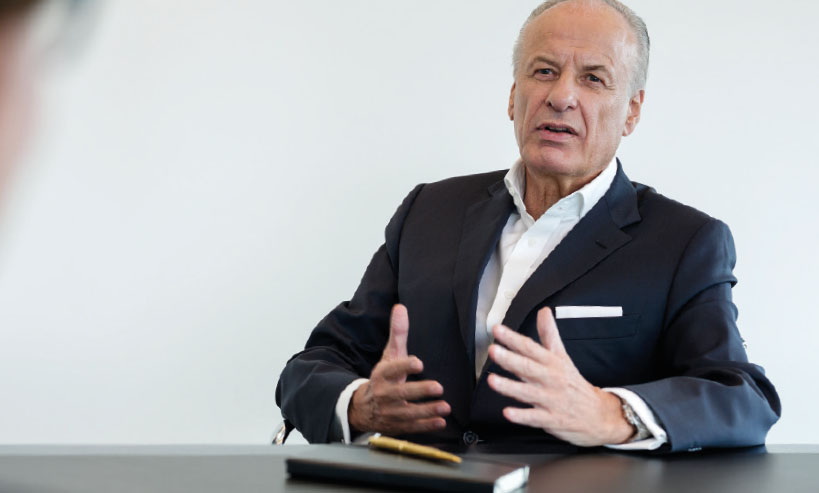 What then is Becken's vision for the city of tomorrow?
DB | A green city with lots of space for people to interact. We need to try to preserve as many green spaces as possible and create new ones - and we need to think a lot more about this.
MB | It also helps us to look beyond our famous horizons. We can learn a lot from cities like Copenhagen or London - for example, Europe's first completely CO2-neutral village was built there.
This raises the next question: how do you finance your ambitious goals, your project developments and your teams?
DB | Our capital strength puts us in the fortunate position of being able to implement real estate projects under our own steam right from the start. In addition to strength, this also gives us flexibility and makes our company attractive to potential partners. Increasingly, we are also using our more than 40 years of expertise and profound market knowledge to structure various real estate funds for institutional investors. This allows us to secure sustainable investments in properties with value appreciation potential as well as developments, and to build up a sustainable real estate portfolio with the goal of solid, long-term income generation.
"Wherever we look

change is already happening
."
Do I understand correctly that, in addition to real estate, sustainable financial products will also be part of your future product range?
MB | Absolute. Since the beginning of 2018, I have been working with a team of experts to build up the Investment and Fund Management business area. With the Solid Office Fund I, we also launched our first ESG fund (so-called Art. 8 fund) in Q1 2021.
DB | We were and remain an agile company - because no one should
rest on their laurels.
Thank you for an interesting conversation.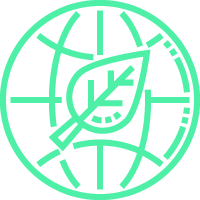 Hosting with 100% green electricity from renewable sources.